This week the Jewish people will be celebrating the festival of Sukkot (Tabernacles).
On Sukkot, Jews re-enact the travel experience of their ancestors by leaving their permanent dwellings to live in Sukkot (booths) similar to those lived in by the Israelites as they travelled through the wilderness.
Rather than being a sturdy structure, a Sukkah is a temporary dwelling, and by choosing to live in a Sukkah the Jewish people affirm their faith in G-d and show that wherever they go, G-d and their Jewish identity can remain with them.
Interestingly, social media apps like whatsapp and facebook are also a form of dwelling, and academic describe them as 'digital dwellings' since they allow people to come together even if they are physically distant.
In our homes we have numerous reminders of G-d (eg. mezuzah) and our Jewish identity (eg. the kosher food that we eat). The message of Sukkot is that even when we are outside of our home we should remain connected with G-d and our Jewish identity. However, since so many of us spend so much time in our digital dwellings, this too should be a 'place' where we remind ourselves of our Jewish identity.
Through creating digital tools that help Jews connect with their heritage, Jewish Interactive is not only changing the landscape of Jewish education but also making sure that the digital dwellings where so many of us reside are enriched by Jewish values and Jewish content.

Download Ji Tap for free access to all of our Sukkot creation packs, and Sukkot games.
Wishing you all a Chag Sameach!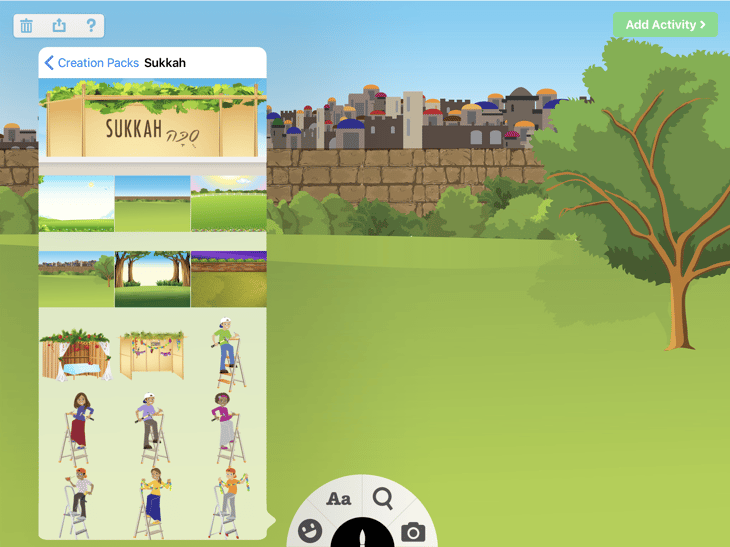 Download Jewish Interactive's FREE app "Sukkah Challenge" and build your own 3-D sukkah!