Today's youth have grown up with digital technology, which is why they adapt to new tech so easily. As such, introducing educational apps as early as possible, both at home and in school, is a good idea. But what about safety? Once a child learns to walk, you must teach them how to cross a street. The same applies with technology. They need to be protected from—and be made aware of—the pitfalls of the world-wide web. Here are a few safety tips to help keep our children safe online and when using educational apps.
Start by educating yourself
As a parent or a teacher, you understand the dangers children face when their use of digital technology is not controlled. In allowing access to educational apps, you leave the door open for other content that isn't appropriate for children. You need to have systems in place to stop unwanted content, such as monitoring and blocking software. We pride ourselves in having excellent safety measures in place across all of our products including safe multi-platform tools that can be used off and online. But it's also important that you educate yourself on how to handle the inherent risks of allowing children on the internet. You can do this by reading blogs and articles on online safety or sign up for courses that will teach you how to properly manage online access in class. Take a look at our blog: How to stay safe when using educational apps for children.
Provide adequate resources to your children at home and in the classroom
Having set up a safe digital environment, you can now harvest the power of educational technology with a reduced chance of exposing children to unwanted content. Educational apps help young students assimilate Jewish culture in a fun and novel way. Ji Tap is a great example of this as the app is built to immerse students in Jewish culture. Learn more about Ji Tap here. You're not telling students to open a book; rather, you're giving them the opportunity to play educational games and apps, watch videos and read blogs.
Create or join safe online communities
Online communities are a large part of educational technology. These communities are a great environment for teachers, parents and children. There are interesting articles, like this one, on how to make sure these communities are safe for children. When managed correctly, online communities are a breeding ground for knowledge and positive reinforcement that will greatly increase children's understanding of a variety of topics, such as Jewish culture. Ji Tap is one of these safe online communities, a platform where Jewish educators and students can share and use each other's games and lessons.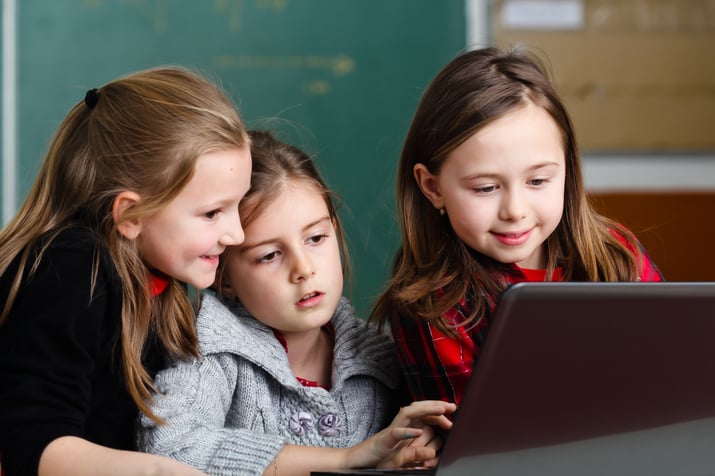 Be a guide, a councillor and a role model
Even with proper security in place, children might find themselves exposed to content that is not meant for them. You need to create an environment—at home and at school—where you are approachable and nurturing. Children should not hesitate to talk to you about these negative experiences. Make it clear that the content itself is bad, and that it is not their fault. Endeavour to help them process what they saw. This positive, guiding approach will encourage children to trust you as a mentor and be open to dialogue. It will also ensure they continue to use technology in an educational way.
Introduce and maintain rules and guidelines
Once you've allowed educational apps at home or in the classroom, it's important to have rules and guidelines in place with regards to how children should use them. They must understand that unsolicited online behaviour can have consequences:
An online prank can be interpreted as cyber bullying by the child being pranked, which can have serious repercussions.
Children must understand the importance of protecting their privacy and shouldn't divulge information for no good reason.





Access to educational technology should be recognised as a privilege. Any abuse can and should result in the loss of this privileges.
Agree upon rules and guidelines within the school environment and at home. Have them clearly visible, maybe as an infographic or a poster, and make sure that everyone understands and follows them. In doing so, you are creating an environment where children can safely use educational apps.
Ji Tap is the perfect example of a safe and trustworthy educational app, backed by a passionate online community. Why don't you give it a try?