The advent of technology and the internet heralded an explosion of digital content that can be consumed anytime, anywhere and by anybody. What we can do with even the most basic smartphone is staggering, and presents many new opportunities to distribute information with ease. This is especially true in school, as children have known the internet most of their lives. As a teacher of Jewish studies, you should consider introducing technology and educational apps for children in the classroom. But you must also protect your students from the darker sides of the internet, like bullying and age-inappropriate content. Here's how:
Make use of parental controls
Parental controls are tools that allow adults to control the amount of content being shown to certain users, like children. In a school environment, teachers can restrict their students' access to inappropriate content. You can control the content by using:
Network level controls:

Your school's ISP (Internet Service Provider) should offer a built-in software suite with which you can define what content can and cannot be displayed, based on the access level granted to your students. These kinds of restrictions can be put in place directly through the school's internet router hub, if need be.
Device controls:

You can also set up restrictions for individual devices. The easiest way to do this is to create a login account for the device in question with restrictions put in place. That account is the only one your students can use to log in.
App control: Apps like Netflix, YouTube, educational apps for children and other content aggregators often have their own built-in parental control system. This usually involves needing a special password to access mature or inappropriate content, or by not allowing content to come up in search results.
Age ratings
Much like board games, video games or movies, educational apps for children come with an age rating. Its purpose is to help adults define the ideal age a child needs to be to fully grasp the content. Even with harmless apps, you should be mindful of age restrictions. Granted, there is little chance of finding truly inappropriate content on these platforms. But some teaching materials – for instance on sexual education – are designed with older children in mind.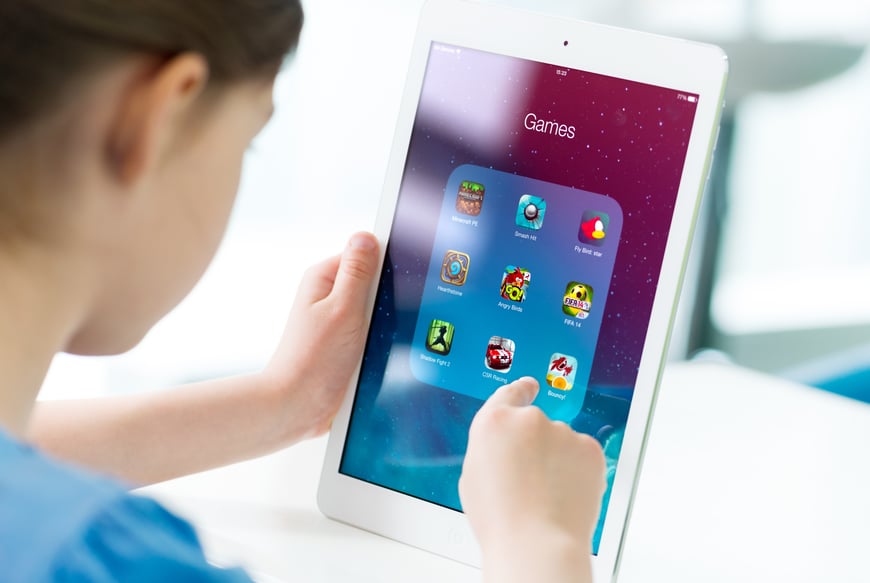 Raise awareness by talking to your students
We have stated it earlier, children were born in this digital world but this does not mean all children are aware of Internet safety. Some may be aware of the implications of using the Internet and it is important to nurture that awareness and help them gain insight into the dangers they can encounter online. It is always a good idea to give them tips on how to navigate the world-wide-web safely and what to do when they land up on content that is not meant for them. By teaching good digital habits and encouraging students to speak about it in school and at home, you instil in them a sense of responsibility that they'll take with them into adulthood.
Educate yourself
Are you contemplating introducing technology into your classroom? Maybe you have questions about how to avoid inadvertently showing unwanted content to your students by letting them use a connected device. School staff should attend workshops on e-safety, the tenets of which are outlined by the UK Council for Child Internet Safety (UKCCIS), before digital technology gets used in class. Jewish Interactive can organise these workshops for you, find out more here.
As a teacher, it will help you identify issues as they arise and give you the tools necessary to deal with them adequately. By being knowledgeable, you can also reassure parents when they express concerns over the use of internet-based tools in school.
With this advice in mind, adopting educational apps for children, such as Ji Tap, will be an easy and seamless process that will greatly benefit both teacher and students. Ji Tap is the ideal platform to introduce Jewish Studies to the classroom through games, lesson plans and tons of other community generated content. In addition, it has ensured child safety is a priority and is fully COPPA compliant, meaning that parents and teachers can relax as users have fun!
Why not download Ji Tap today to ensure that your children use technology in the safest way to enhance their Jewish Education...