There are so many rules and customs that children need to learn, not just for during the holiday but for the days leading up to the start of Pesach as well.
Ji Studio is a great resource that can be used by children at home as well as at school. Children are able to make their own Hagadah that they can then print and use at the Seder. They can also make a poster to show everything that needs to be done to prepare the house for Pesach. Below is the ready-made Hagadah template from Ji Studio, that includes the sound stickers of the brachot and songs. Page through it!
Popplet is a free app for iOS devices that gives children the ability to create mind maps. This app can be used to create mind maps about what can and cannot be eaten on Pesach. It can also be used to illustrate the 10 plagues or show the order of the Seder.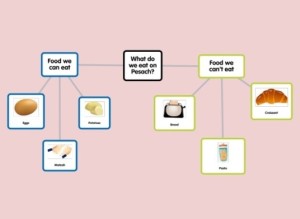 Use Tiny Tap to create games and quizzes to see what your children know about Pesach. You can either create your own or use some of the great resources available on the cloud already. Children are also able to create their own games that they can use to test their friends or other children in the class.
Have a look at these Tiny Tap games that teachers have created for their students: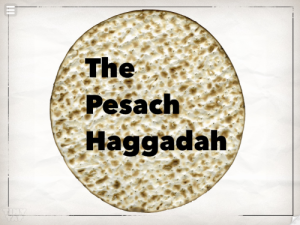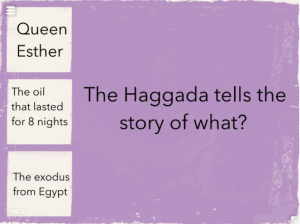 Another great app that can be used to teach children about Pesach is Puppet EDU. This is a movie-making app that allows you to add images with text, music and voice recordings. We created a movie on Puppet EDU showing all of the 10 plagues in Hebrew and English using the images from Ji Studio.
Use Write About This with images from Ji Studio to give students a variety of writing prompts about Passover and the Passover message. This is a great cross curricular app that can be used in Literacy, Kodesh or Ivrit lessons to have children write about different topics. One example we created asks children to write about how they thought Moshe might have felt after learning he had to talk to the Pharaoh. Children can write responses in Hebrew as well as English and their writing can be printed with the images to be sent home to parents or used as a display.